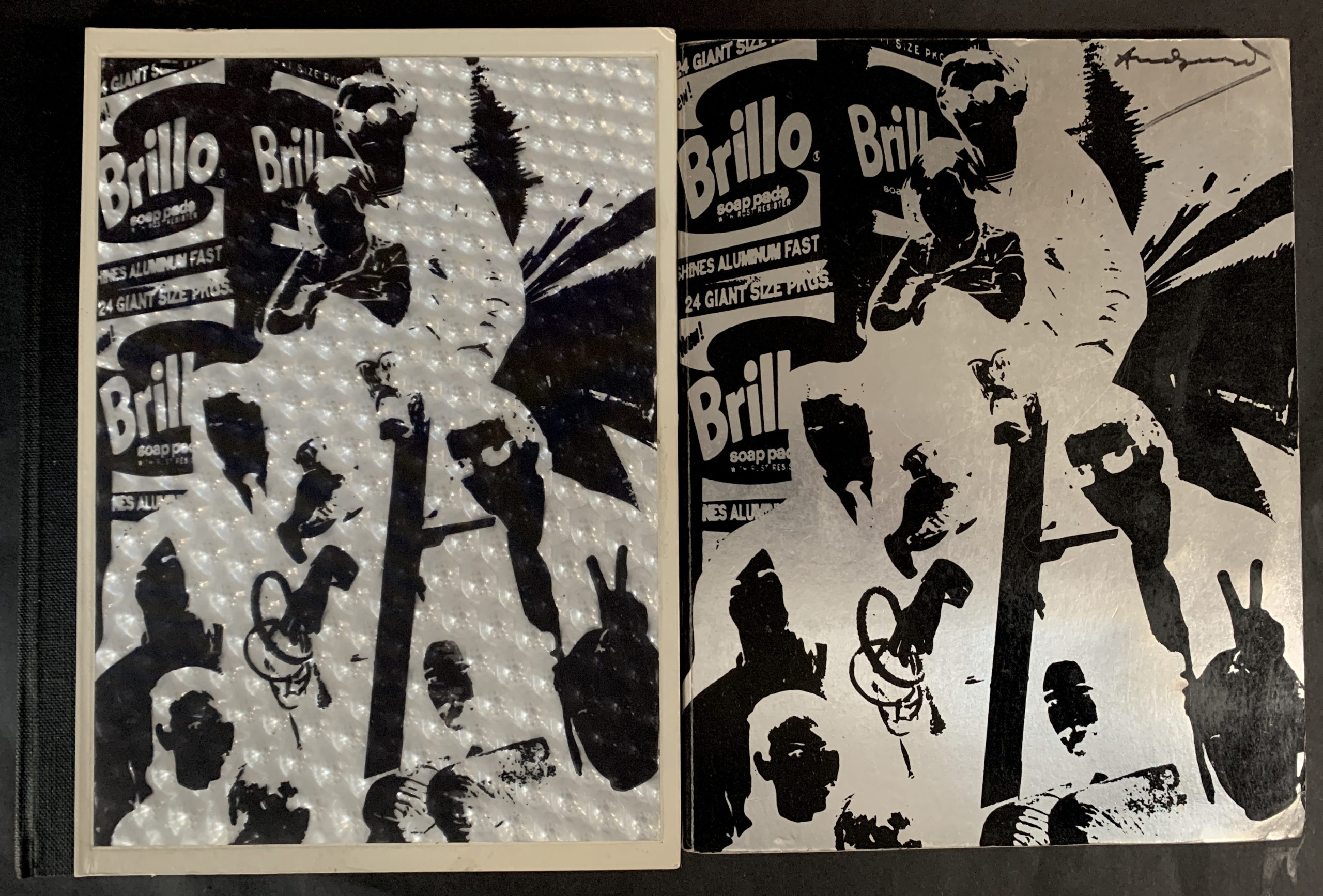 Andy Warhol Index Book : Velvet Underground : 1967
Not only an important mid-sixties Warhol item but also considered a significant Velvet Underground  rarity.
Stated First Printing -circa November 1967 : (one printing, two editions : OUT-OF-PRINT ever since)   Random House, New York: & Toronto,Canada (simultaneously) printed in Japan: 28 x 22 cm.
Contributions by Andy Warhol, Stephen Shore, Billy Name, Nat Finkelstein and others.
Alongside the 1968 Swedish Moderna Museet Catalogue, this stands as the ultimate  artefact (and document) from the mid-sixties of Warhol's heyday at the (in)famous Factory. While the heavily crushed contrast B&W photos perfectly set the scene, there's plenty more surprises in what could be described as  multi-media cornucopia.
Publisher Alan Rinzler (Bantam Books, Grove Press – later vice president of Rolling Stone Magazine & Straight Arrow books) commissioned this title for Random House. The original idea was for a photobook to document the Factory scene, brought to Rinzler in 1965, by a photographer he remembers as Billy Lair ( Freudian slip? Surely Billy Name?). When Warhol became involved, the idea  evolved  into creating a book that would be a work of art in itself : a pop-art multiple -for the masses.
When he visited the Random House  to discuss the project, Warhol was shown various pop-up prototypes. I assume the idea of employing pop-ups in a book about pop-art appealed to Warhol's sense of playful irony –  conveying- that despite the serious tone of much of the press coverage,  he didn't take himself  that seriously.  Not only pop-ups typically of a children's book were used, for instance to depict a Warhol staple such as soup cans ( in this instance a tomato paste can) but  he also utilised more unusual elements such as a disc on a spring, a pop-out dodecahedron and a flexi-disc record.
Although Rinzler recalls Lou Reed being present and  his face appearing on the flexi disc) , the recording  is an audio snapshot of a suitably vacant Nico ( + possibly a Welsh accent = John Cale?)  being shown a rough draft of the book while snippets of I'm Waiting for the Man and Femme Fatale from the Velvet Underground's 1st Lp are 'featured' in the background. According to Rinzler, they'd previously listened to The Beatles Sgt Pepper for the very first time (released June 1967) which explains Nico mimicking the track Good Morning Good Morning.
The multi media elements consist of
1) a pop-up castle with Billy Name B&W photos
2) a fold-out page with paper accordion (these made squeaking sound but very few, if any still make a noise. I had a working one that was out away for over ten years – only to be silent!
3) a pop-up biplane
4) a spring-mounted disc featuring reviews of Warhol's film Chelsea Girls
5) a pop out dodecahedron depicting Gerald Malanga. This was supposed to be "sprung loaded" with an elastic band & sealed between two pages, When the pages were unsealed it was supposed to pop into a sphere
6) A flexi-disc depicting Lou Reed that was supposed to be torn out and played at 33rpm. Because it features Nico talking over snippets of I'm Waiting for the Man and Femme Fatale it has become a the ultimate completist  (along with Aspen #3)  Velvet Underground rarity.
7) a fold-out sheet with nose & rainbow overlays
8) a pop-up Hunt's Tomato Paste can,
9)  8 tear-out 'For a big surprise'. The idea was that Warhol's signature disappeared. I did try this – and it dissolved into "mush". Clear whatever magic property it possessed over 50 year ago had long dissolved.
10) Balloon.  ah, the notorious silver balloon with neon pink "INDEX" printed on it . This is, in 99.9% of copies, fused between the pages creating a brownish stain on the adjacent pages. At best a balloon shape can be seen, if extra specially lucky the word "Index" can be read in the stain. I've only come across one copy where the balloon had been removed !  The customer who bought it decided it was actually better it was "missing" than "present".
Given that in order to fully enjoy your book you were required  to destroy several elements,  complete copies fetch a premium. Given that the flexi disc is on card and usually curls up to the point of being unplayable, copies with it still attached ( & with the pop-out centre hole unpunched) are preferable to collectors ( the audio has been bootlegged and can now be found online).
The dodecahedron & Chelsea Girls disc  can easily become unattached and are often missing. Like the balloon,  the dodecahedron is unlikely to work given that the elastic band has also perished.
In addition to the above the book came in a clear plastic bag with purple lettering,  presumably to stop people tinkering with the pop-ups. but these are seldom seen, These are seldom seen and not generally regarded as being part of the package. A postcard often gets a mention but I've yet to come across one.
Given all the above, and the fragile nature of the sewn  binding,  finding a "Fine" "Near Mint" copy of this book is nigh on impossible so prices very according to completeness & condition. Incomplete copies still fetch $200-300++
The softback edition has silver card boards that are often scratched to some degree and although this edition better reflect the "silver Factory", tits the hardback that is fetching the higher prices.
The Hardback edition has exactly the same interior as the softback but crudely bound in heavy boards, with a pasted on 3M reflective  type panel (often listed as a lenticular – it isn't) mounted on the front and printed with the same high contrast B&W image of Warhol and the Factory crew with the Brillo boxes in the back ground.
There was also very limited (50? copies) which Warhol signed on the cover and title pages with his full signature and then initialled all the pop-up pages. However, we have in stock an unusual signed copy of the softback that he signed multiple times for dealer friend.
By now you've probably gathered  this is a book POPT loves to specialise in , so please check stock for detials listings of both the softback, hardback and an unusual signed copy.