Sex Pistols God Save the Queen 1977-2022 Silver- Platinum Jubilee
God Bless The Sex Pistols
The Sex Pistols' first single Anarchy In The UK was played twice on the John Peel Show before it was banned from broadcast by the BBC.
The popular misconception is that to capitalise on the scandal their Svengali manager, Malcolm McLaren scheduled the release of their second single the same week as Queen Elizabeth's Silver Jubilee as a calculated media stunt to provoke further public fury and increase the band's notoriety. As with every aspect of the band's short career, nothing was that simple, let alone that well-orchestrated.
Once again fuelled by inflammatory headlines and tabloid outrage the Great British public couldn't perceive God Save the Queen as anything beyond a vitriolic two fingers designed to upset and deride their beloved monarch's celebrations. The song was originally titled No Future – a reflection on the state of the country, which was plagued by power cuts, rubbish collection strikes. As with a lot of Lydon's lyrics the No Future refrain was ambiguous – he condemns everyone – "you" – "me" – the monarchy. Possibly the real rot that was exposed by the public – God Bless 'em – who desperately hung on the monarchy as a last vestige of blind patriotism. McLaren was arrested following his Jubilee boat party PR stunt and various band members were either threatened or viciously assaulted by the public.
Subsequently John Lydon has explained that the song was more of a stab at the establishment's use of the royals as puppets of the state than a manifesto for the abolition of the monarchy. If you look online you'll find plenty of interview snippets and wiki entries that support this view – however the flier and postcard (shown in this blog) embellished with the words fuck and cunt directly over the Queen's face – possibly reveal his true sentiment at the time, or was it more punk posture? Lydon likes to fuck with people's perception of him, which he's never stopped challenging. Even if you agree with him – he'll disagree with you. He's a trouble maker hell bent on provoking you into thinking for yourself. Simple, clever lyrics but never nice or easy.
God Save the Queen was penned in 1976 – originally titled No Future. A demo version was recorded 11th December at EMI's Manchester Square Studio's with producer Mike Thorne. Further attempts were made 27th December with Chris Thomas at Wessex Studios and then at Gooseberry Sound Studios with Dave Goodman in January 1977. The final album (and single) take was recorded in March 1977 with original bassist Glenn Matlock's replacement Sid Vicious. However, guitarist Steve Jones overdubbed his performance.
When the band parted company with EMI after the release of Anarchy in the UK (26th November 1976) McLaren signed them to A&M records in March 1977. A full-page advert featuring both of Jamie Reid's God Save the Queen/No Future fliers (featured here) was placed in the March issue of punk-zine Sniffin' Glue #8. However the band were unceremoniously dropped by A&M ten days after signing with them – but not before thousands of copies of God Save the Queen backed with No Feeling were pressed.
Although all copies were ordered to be destroyed only 'a handful' were thought to have survived and exchanged hands for increasingly large sums of money. However more copies (kept in a vault) were given to A&M employees as retirement gifts when the label was engulfed by Universal Music in 1999. A genuine copies A&M pressing now fetch £10,000++ .
A new pressing on Virgin Records (with a different B-side Did You No Wrong) was issued in a blue and silver picture sleeve (the official Silver Jubilee colours) depicting a defaced Queen. Maybe Richard Branson had more to do with manipulating the Sex Pistols' notoriety than McLaren – the release date – 27th May 1977 meant that following the intrigue, anticipation and publicity caused by the withdrawn A&M release, the single entered the charts at the top – the same week as WW2 style street parties were staged up and down the country.
The record was once again banned by the BBC and while it reached #1 in the NME chart, it was listed as a blank at #2 on the national singles chart, despite outselling Rod Stewart's cover of The First Cut is the Deepest (CBS who pressed both records allegedly informed McLaren that it sold twice as many copies). While denied the top spot, they were certainly public enemy #1.
Each significant Jubilee it gets reissued in a different format and for the 2022 platinum one Universal released 1,977 copies in platinum vinyl of the original A&M coupling.
Since John Lydon seems to be too upset by the new Pistols TV series to have commented this time around – I've posted these fliers he embellished with fuck and cunt back in 1977.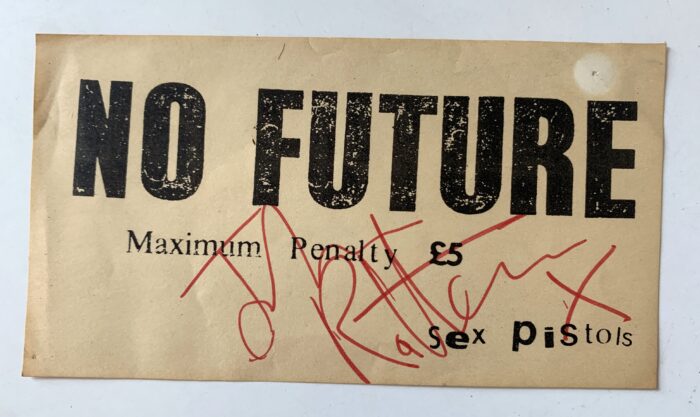 Tags: God Save the Queen, Jubilee, Punk, Sex Pistols