Description
This package tour began on 17th October, 1964 in Sheffield and finished 23rd November at the Manchester Odeon.
Although the Searchers were the home grown headline act, Dionne Warwick was riding high with her international hit and multi-million seller Walk On By, released in April 1964. However, there's  probably more interest in The Zombies, not only for their 1964 hit She's Not There but their seminal 1967 Odessey & Oracle LP.
BOTH SOLD  :  programmes offered for sale from The Gaumont Taunton Somerset, is marked up as it's signed on the cover by Dionne Warwick, and by Zombies : Colin Blunstone &  Paul Atkinson (cover) & Hugh Grundy (inside)- see photos. It also has the ticket taped in. The handbill for Cambridge was also a ticket manifest and the coupon a the bottom has been trimmed off (& presumably used). See similar flier from Gaumont Taunton >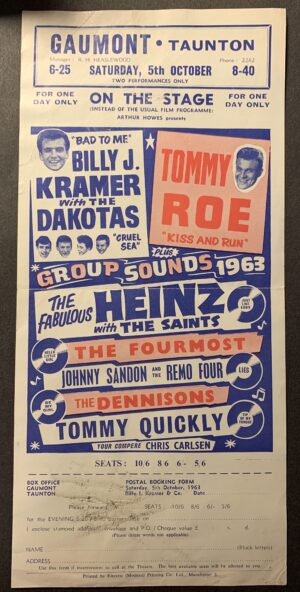 To order: please click the enquiry button or email info@pleasuresofpasttimes.com and state your location and preferred payment method* I will respond within less than 24hours with a bespoke postage and packing quote (at near cost as possible).
*My preferred payment method is via online banking and I send a request based on your location. This is known as ACH in the USA (and is free to use – unlike a wire). This means I can offer P&P at cost. It's cheaper for you and cheaper for me 🙂
Alternatively, I can send a Paypal request. Please specify whether you wish to use your Debit or Credit card (no account necessary) – or you wish to use your Paypal account. Paypal payments are subject to their fees (added), unless you wish to pay via the Family & Friends option.