Description
After Bowie retired his  Ziggy Stardust persona  at the Hammersmith Odeon on 3rd July 1973, he left (or abandoned the UK as many fans felt) for the USA. There he was able to stage the increasingly lavish, so called "Theat-tour". An elaborate set of Hunger City, with complex stage hydraulics, was designed by Mark Ravitz. His muse Freddie Burretti was retained as costume designer.  POPT Blog #4 David Bowie : Arnold Corns : Curious Magazine #19 May 1970 'gender bending' cover!
If nothing else Bowie was only ever one step away from musical theatre thanks to his mime training with Lindsay Kemp.
The show cost a fortune to stage and with complications of the stage hydraulics it was abandoned when Bowie took a month off and recorded his new LP the Young Americans. While his Diamonds Dogs persona wasn't much of a departure from Ziggy, red hair etc, the new material was a complete departure and the slowly the tour was dubbed the 'Philly Dogs',  becoming the Soul Tour  by the end as the Diamond Dogs material was replaced with a new set list.
The tour, from June to December 1974, was split into three legs, so it makes sense that there were 3 different variations of the tour programme, however each printing states on the back page "First U.S Edition". Also with the change from Diamond Dogs to Young Americans, the set list was dropped after the first printing.
The Guy Peelaert  Diamond Dogs LP artwork was censored at the last moment in the US, with the area around the dog genitals being carefully airbrushed out. However, for the tour programme a black over-print was placed over the offending area,until the 3rd version which was professionally retouched.
David Bowie Creem Magazine 1974 : uncensored Guy Peellaert Diamond Dogs artwork.Roxy Music article.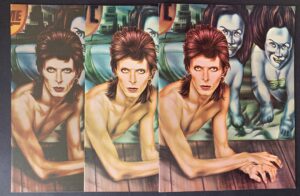 • 1st Version : Shiny cover. Generally bolder printing/ stronger colours compared with 2nd printing but having said that I'd handled 1st pritnings with light colours matching 2nd. Set list on the penultimate page.
• 2nd : Shiny cover, Slightly lighter colour (less red tones). Set list removed and credits enlarged.
• 3rd : Matt cover. Retouched artwork  on back cover :  black over print has been  airbrushed over genitals  and "Alive" on the show ground background has been altered to "Bowie".