Description
Securing Bob Dylan's performance at the 1969 Isle Wight Festival was regarded as a major coup. He'd not made a public appearance since his gruelling 1965/66 World tour ground to a halt  on 27th May 1966 at the Albert Hall in London.
Even the Beatles and their wives were in attendance. However this was not the joyous comeback everyone hoped for. These posters, and much of the press coverage prior to the event, presented Dylan the '66 pop star instead of the new Nashville Skyline version.
Condition : 87 cm x 57.5-  I believe these are rare uncut versions of the poster, which were cut in two – see footage from the event. Other than some very minor handling creases around the edges they're pretty much "as new"…. undisplayed, so no pin holes etc…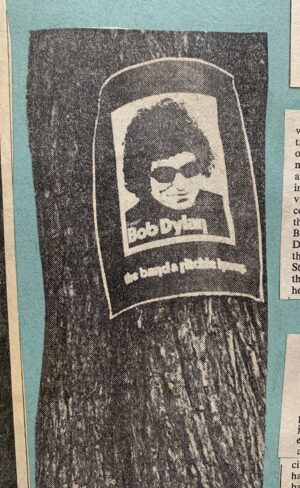 Photo above of half the uncut poster tacked to a tree at the event – as show in a newspaper clipping from this scrapbook :  click link  : Bob Dylan Isle of Wight Festival 1969 : 46 page Fan scrapbook
To order: please click the enquiry button or email info@pleasuresofpasttimes.com and state your location and preferred payment method* I will respond within less than 24hours with a bespoke postage and packing quote (at near cost as possible).
*My preferred payment method is via online banking and I send a request based on your location. This is known as ACH in the USA (and is free to use – unlike a wire). This means I can offer P&P at cost. It's cheaper for you and cheaper for me 🙂
Alternatively, I can send a Paypal request. Please specify whether you wish to use your Debit or Credit card (no account necessary) – or you wish to use your Paypal account. Paypal payments are subject to their fees (added), unless you wish to pay via the Family & Friends option.