Description
Search Isle of Wight for more ephemera from the 1968-1970 festivals.
Personally I love fan-made scrapbooks, not only are they a great resource for primarily materials, (imagine having to collect all the newspapers from the time)…they're also great naive works of art in their own right. Dylan disappeared either to recover from an alleged motorcycle accident, or as  rumours persist to kick a heroin habit picked up on the gruelling 1965/66 tour….or both. Regardless, he was finally back on stage- exclusively -at the 1969 Isle of Wight Festival instead of Woodstock.  The Beatles & partners all duly attended. As did Syd Barrett. However it wasn't the return of the messiah everyone envisaged.  Instead of the pop-star in dark glasses with a frizz/'fro hairdo and the polka dot shirt, Dylan looked more like a southern preacher in a white suit and slicked back hair.
Lennon tentatively returned to live performances in September, later using Dylan's flat "comeback" as justification for the Beatles not performing live again.  (Page216 Who Are the Plastic Ono Band:Pub 2020) : I saw what happened to Dylan (at IoW1969). He gave a reasonable performance. It was late and everybody had waited three days and it was slightly flat. There was nothing wrong with his performance and the audience appreciated it, but they expected Buddha or Jesus to appear.
Since the 50th anniversaries, IOW material has gained immense interest not only because of Dylan's 1969 comeback but also for the final British performances by Jim Morrison with the Doors and Jimi Hendrix at the 1970 festival. However, the 1968 festival which Jefferson Airplane headlined has remained largely ignored. As DJ and man about town extraordinaire,  Jeff Dexter commented, "I went to see Jefferson Airplane, and lasted 25minutes, it was a scaffolding off the back of truck job." Jeff was later the DJ at the 1970 festival and can be seen introducing Hendrix's last UK performance….
Back to the scrapbook in question….Pasted onto the back cover is one of the scarce original flyers (which sell for £100++). Also of interest is the hand written set list with performance times …unfortunately who ever compiled this didn't add their name. Accompanying the scrapbook  are 9 x B&W (approx 8.5cm x 11.5 cm)  snapshots of the festival. The most interesting are of the crowd and stage but there are 3 of Dylan on stage. These are clearly taken from afar and are shaky and out of focus. Regardless, they're unique reportage & otherwise unpublished photos of Dylan performing at this important event.
The identity of the photographer and the scrapbook compiler are unknown.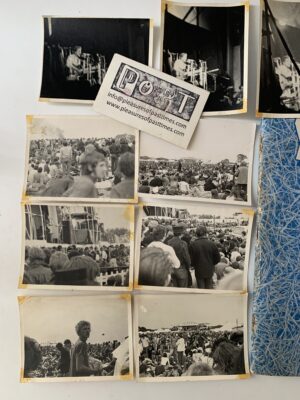 Condition : VG+ : No musty damp smells !  The pages are wavy due to newspaper articles being pasted in. Staples rusty and centre pages loose. Photos  : One crowd shot has the edge trimmed, another has blemish on the front – but nothing significant. Nearly all the corners have old tape residue.  They are now mounted on white board with acid free photo corners.
To order: please click the enquiry button or email info@pleasuresofpasttimes.com and state your location and preferred payment method* I will respond within less than 24hours with a bespoke postage and packing quote (at near cost as possible).
*My preferred payment method is via online banking and I send a request based on your location. This is known as ACH in the USA (and is free to use – unlike a wire). This means I can offer P&P at cost. It's cheaper for you and cheaper for me 🙂
Alternatively, I can send a Paypal request. Please specify whether you wish to use your Debit or Credit card (no account necessary) – or you wish to use your Paypal account. Paypal payments are subject to their fees (added), unless you wish to pay via the Family & Friends option.