Description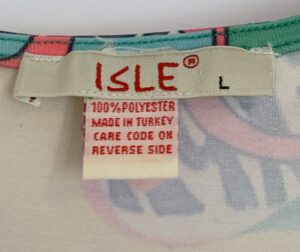 No idea how much (if anything) this has to do with the actual West Coast Pop Art Experimental Band but it's clearly a commercially produced period item  (circa 1967-1969) that is trying to emulate psychedelic hippie attire. While the words "West Coast Pop Art" are clear  "Experimental" sort of trails off.
Polyester -made in Turkey, where a lot of commercial clothing manufacture takes place. The tag states large :  estimated  dress size UK size 12-14 , US 10-12, EU 40-42 . Measurements : Nap (back of neck) to hem : 125cm / 50″ : Across back (shoulder blades)  30cm/12″ : Top of shoulder to bottom armpit 23cm / 9″ -see photos. It also has a train that extends from the front. The 'West Coast Pop Art' is part of a repeat pattern in the fabric and best seen on the back – between the shoulders.
Condition : The item has been washed and cleaned. There is no sign/evidence of wear around either the neck, armpits etc or any damage.  It has no residual perfume or other odours!
Scarce "cash-in" psychedelic item- with reference to one of the West Coast's best psychedelic bands.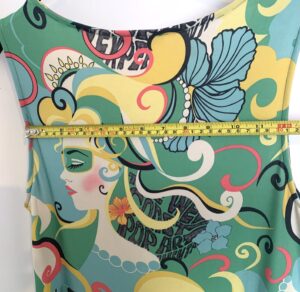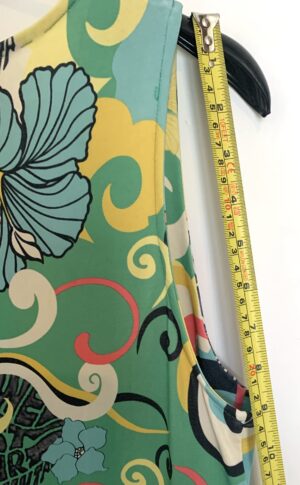 Postage & Packing is at cost & it is calculated and emailed after checkout as a separate invoice. Or email for a postage quote prior to checkout – and P&P inclusive invoice can be sent. Postage is slightly cheaper when paid by online banking (no Paypal deductions). Preferred payment method: Wise Bank • Account Holder = PoPT Acc95602862 Sort 231470 Outside UK : IBAN GB03 TRWI 2314 7095 6028 62