Description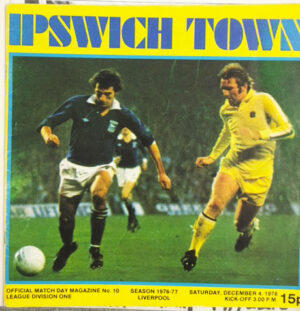 The Sex Pistols first record Anarchy In the UK  was released in the UK November 26, 1976. Their beloved manager Malcolm placed full page adverts in 4 football programmes.
This for Saturday December 4, 1976 Ipswich Town. This copy comes from the collection of renowned journalist Jon Savage, author of the seminal Punk biography England's Dreaming 
Condition is VG++  : Extremely faint central crease, one minor "thumb crease", staples  rusted. No rips , tears or cuttings.
To order: please click the enquiry button or email info@pleasuresofpasttimes.com and state your location and preferred payment method* I will respond within less than 24hours with a bespoke postage and packing quote (at near cost as possible).
*My preferred payment method is via online banking and I send a request based on your location. This is known as ACH in the USA (and is free to use – unlike a wire). This means I can offer P&P at cost. It's cheaper for you and cheaper for me 🙂
Alternatively, I can send a Paypal request. Please specify whether you wish to use your Debit or Credit card (no account necessary) – or you wish to use your Paypal account. Paypal payments are subject to their fees (added), unless you wish to pay via the Family & Friends option.