Description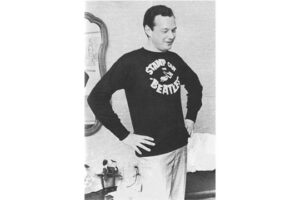 Brian Epstein's worn & personally owned "Stamp out The Beatles" sweat shirt.
It has  long been the assumption that the Stamp Out Beatles "campaign" was part of the 1966 backlash against Lennon's so-called "Jesus statement", following an old interview being reprinted in the US teen mag  Datebook (also available).
In fact, it was a PR stunt  by W.T Rabe for his clients the University of Detroit -Lake Superior State College, Mackinac Island. He was also responsible for other "hilarious" college humour ruses such as  Silent Records, Unicorn Hunts and Word Banishment. Peter Murphy, a clean  buzz cut,  student was cajoled into fronting the "Stamp Out the Beatles" campaign, which objected  to the Beatles' -supposedly – long hair.
On an otherwise triumphant first US tour,  "the campaign" was clearly a minor annoyance which the Beatles were obliged to address when brought up by insistent reporters. Lennon ,"They think your haircuts are un-American. Well, it was very observant of them because we aren't American actually." McCartney, when questioned at a NYC press conference, added  "We're going to stamp out Detroit!" ."
Samples of the merchandise : sweatshirts, bumper stickers etc were sent  to the hotel where The Beatles were staying in Florida. There are two photos of Epstein wearing one of the sweatshirts at the hotel. These are often credited to Maurice Kinn, however, his son Adam emailed POPT, "The photo of Brian was not taken by my father Maurice Kinn, as he & my mother are both in the original shot. Also the date is incorrect (11th September),  the photo was taken at the Deauville Hotel, Miami during the Beatles 2nd Ed Sullivan show 16th Feb 1964."
So, finally, it has been established that Brian Epstein was wearing this while watching the Beatles' 2nd appearance on the Ed Sullivan show…making it a unique artefact of that first US Tour -ten days that  would ultimately change the course of popular culture.
While Dhani Harrison inherited his father's sweat shirt (worn during the Sgt Pepper's sessions) Epstein gave his to his former chauffeur and assistant Alfred Blackburn.  Incidentally, Blackburn was sent to collect Joe Orton for a script meeting for the Beatles third film, Up Against It, only to discover Orton murdered by his boyfriend Kenneth Halliwell.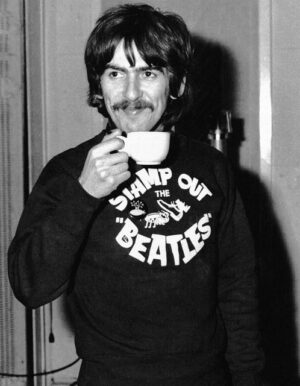 The sweatshirt was first auctioned as part of Blackburn's estate  in 1990. It has since been sold by both Bonhams and Julien's Auctions (celebrity L.A auctioneers).
POPT not only has the original Brian Epstein sweatshirt available  but we've made a limited edition of 25 silk screened sweatshirts.  While there are online sellers claiming 'you'll never find a better copy of the original', here are near exact replicas, complete with cracks from 50 years of patina.
The original sweatshirt was photographed and transferred to a silk screen and hand printed. Since this was a shop exclusive there is a small POPT logo  by the waistband to distinguish it from other versions and give it  provenance.  Only  the original and 2 Medium  left in stock : Width Underarm to underarm 55cm. Neck to hem 60cm.  50/50 Cotton& Polyester mix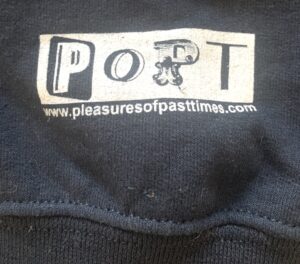 To order: please click the enquiry button or email info@pleasuresofpasttimes.com and state your location and preferred payment method* I will respond within less than 24hours with a bespoke postage and packing quote (at near cost as possible).
*My preferred payment method is via online banking and I send a request based on your location. This is known as ACH in the USA (and is free to use – unlike a wire). This means I can offer P&P at cost. It's cheaper for you and cheaper for me 🙂
Alternatively, I can send a Paypal request. Please specify whether you wish to use your Debit or Credit card (no account necessary) – or you wish to use your Paypal account. Paypal payments are subject to their fees (added), unless you wish to pay via the Family & Friends option.