Description
Needless to say Bayley was an integral participant during the pub-rock scene in London and nascent  New York punk scene. Not only was one of the seminal  photographers of the scene but also worked at CBGB's and aided setting up Punk magazine. She's also an author, publishing of biographies of the period.
http://www.robertabayley.com/
An original 8″x10″ (approx 20cm x 25cm) B&W photographic period print (from negative) -late 1970s print. While modern 'Archival pigment prints' of Bayley's work are offered online for four figures …. IMO a period photo is a far better investment and a genuine piece of ephemera. Signed on the front in silver pen by the photographer.
Condition: EX :  Photographer's studio stamp on the reverse. This is working print from the period and not from an edition etc. No significant creasing or tears – see reverse – this is not a tear, but residue material from where  the photo was stuck onto board.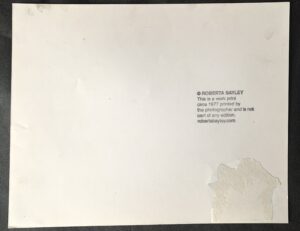 The Heartbreakers were formed from the ex- New York Dolls and Television members and became one of the seminal NYC punk bands. Taken at CBGB'S c 1976 : L-R. Walter Lure, Johnny Thunders, Richard Hell.
To order: please click the enquiry button or email info@pleasuresofpasttimes.com and state your location and preferred payment method* I will respond within less than 24hours with a bespoke postage and packing quote (at near cost as possible).
*My preferred payment method is via online banking and I send a request based on your location. This is known as ACH in the USA (and is free to use – unlike a wire). This means I can offer P&P at cost. It's cheaper for you and cheaper for me 🙂
Alternatively, I can send a Paypal request. Please specify whether you wish to use your Debit or Credit card (no account necessary) – or you wish to use your Paypal account. Paypal payments are subject to their fees (added), unless you wish to pay via the Family & Friends option.