Description
1st Published as SHOCKWAVE in the UK and Punk Rock in the USA, with two different covers – content is identical.

According to the cover blurb, the author had a career in children's stories, and "Her interest in children of the seventies led her explore the punk phenomenon." Sounds like Mary Whitehouse editing  Joe Orton's diaries ? !  While these books were ridiculed at the time as  sanitised mainstream product, they're now collected as seminal documents of the period.
That aside, this is one of best of the original punk books and there's  good reason – Sniffin' Glue editor Danny Baker writes the foreword and seminal punk photographer Derek Ridgers  designed the book. He's also one of main photo contributors along with Ray Stevenson, Mick & Shelia Rock, Kevin Cummins and Bob Gruen …So the source material is good throughout making it better than say Sniffin' Glue or many of the other exploitations titles.
Despite being published at the time, this already has the tone of a retrospective and if nothing else punk was ephemeral – replaced by new wave in 1978 . Whilst not totally a post mortem, it's a Who's Who of Punk : all the main offenders are covered Sex Pistols, Adverts, Clash, Damned, Siouxsie and the Banshees, Slits, X-ray Spex, Don Letts -also sections on  the Roxy Club, a fashion section with Malcolm & Vivienne at Sex. Great book, great photos, great covers ! The UK edition is a lot rarer than the US edition which was heavily imported into the UK and has the advantage of a Soo Catwoman cover.
UK & US  Paperback: 128 pages
UK Publisher: Plexus Publishing Ltd UK  ©1978
US Publisher: Penguin Books ©1978
Book Dimensions : 29.5cm x 21 cm x 0.7cm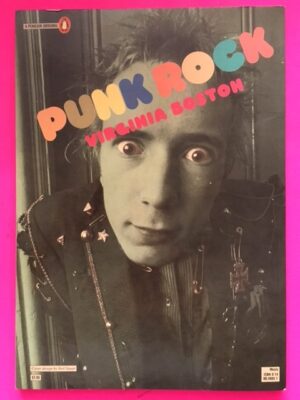 To order: please click the enquiry button or email info@pleasuresofpasttimes.com and state your location and preferred payment method* I will respond within less than 24hours with a bespoke postage and packing quote (at near cost as possible).
*My preferred payment method is via online banking and I send a request based on your location. This is known as ACH in the USA (and is free to use – unlike a wire). This means I can offer P&P at cost. It's cheaper for you and cheaper for me 🙂
Alternatively, I can send a Paypal request. Please specify whether you wish to use your Debit or Credit card (no account necessary) – or you wish to use your Paypal account. Paypal payments are subject to their fees (added), unless you wish to pay via the Family & Friends option.