Description
The Roxy was London's most famous Punk club, December 1976-April 1977 situated at 41-43 Neal Street Covent Garden. The building a converted warehouse, formerly used by the vegetable market, with a bar upstairs and stage in the basement. Every punk band of any worth performed there. A memorial plaque was unveiled on 25th April 2017 to mark forty years since closing.
The book 100 Night at the Roxy was originally  published in 1978 by Big O. A company better remembered  for printing posters – maybe that's why they all fell apart and are so rare and expensive now !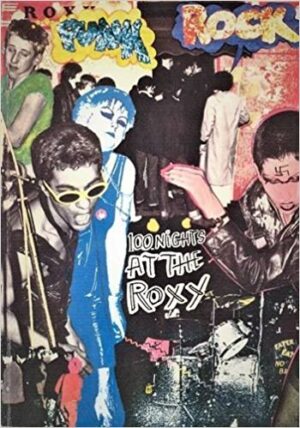 That's was  until earlier this year, when these  lovely people  Andrew Czezowski and Susan Carrington , the original club owner's decided to republish it. They also compiled a second volume, The Roxy Our Story of their recollections and collection of ephemera from the club While the original fetches £400+++ , the new edition retails for significantly less !
600 copies printed ; grab them  before they catch up with the original !
As you can see below Andrew & Susie were nice enough to drop by the shop after the Roxy Club plaque unveiling last May and sign some copies for the shop.
GGD276 : 2017 Signed copies of 100 Nights at the Roxy reprint £25.00
GGD287 : 2017 Signed copies of The Roxy Our Story 1st edition (Soft back only) £45.00
GGC1011 1978 Original 100 Nights at the Roxy  EX : No loose pages, No Missing pages : checked. Spine not "broken" signed in marker on the title page = £550.00
FF1882  1978 Original 100 Nights at the Roxy VG+: No loose pages, No Missing pages : checked. Reading Crease on spine. Signed in marker on the title page = £500.00