Description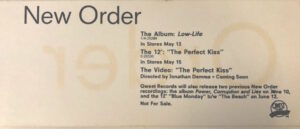 This is a unused 2 sided promo flyer with an adhesive backing for New Order's 3rd LP Low Life released 13th May 1985. It comes from Factory Records US archive.
The front utilises Pater Saville cover typography, while the reverse promotes the LP release, also the single from the album The Perfect Kiss released the same day,  and the video  (directed by Jonathan Demme) . Also the Owest records release of Power, Corruption and Lies + Blue Monday 12″ "Not for sale"Condition : EX unused but minor age toning, no creases.
To order: please click the enquiry button or email info@pleasuresofpasttimes.com and state your location and preferred payment method* I will respond within less than 24hours with a bespoke postage and packing quote (at near cost as possible).
*My preferred payment method is via online banking and I send a request based on your location. This is known as ACH in the USA (and is free to use – unlike a wire). This means I can offer P&P at cost. It's cheaper for you and cheaper for me 🙂
Alternatively, I can send a Paypal request. Please specify whether you wish to use your Debit or Credit card (no account necessary) – or you wish to use your Paypal account. Paypal payments are subject to their fees (added), unless you wish to pay via the Family & Friends option.