Description
Famous treasure hunt book… that caused a sensation at the time of publication, and then a minor scandal as it was alleged that the treasure was found using  insider information and metal detectors –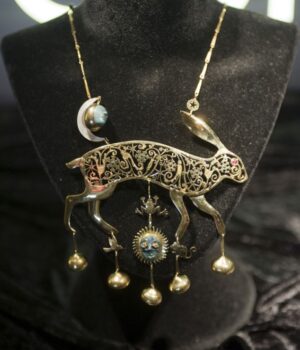 instead of solving the puzzle. The  treasure – a gold hare -was later  sold at auction by  Sotheby's for over £30,000 to an anonymous bidder. It was eventually displayed at the V&A in 2012.
For sale here are copies of the 1979 1st edition and  for the 1981 calendar click here  :Masquerade by Kit Williams UK HB 1981 calendar (including envelope)
Condition : New, unread – all with very, very minor storage bump – see photos
Online prices for this title are all over the place – up to £220+ . THIS AS NEW- Unread UK 1979 1st – not the 1982 reprint
Also in stock is the 1981 calendar featuring illustrations from the book – complete with the original unused envelope. NF
To order: please click the enquiry button or email info@pleasuresofpasttimes.com and state your location and preferred payment method* I will respond within less than 24hours with a bespoke postage and packing quote (at near cost as possible).
*My preferred payment method is via online banking and I send a request based on your location. This is known as ACH in the USA (and is free to use – unlike a wire). This means I can offer P&P at cost. It's cheaper for you and cheaper for me 🙂
Alternatively, I can send a Paypal request. Please specify whether you wish to use your Debit or Credit card (no account necessary) – or you wish to use your Paypal account. Paypal payments are subject to their fees (added), unless you wish to pay via the Family & Friends option.