Description
This is the 1981  calendar, relating to the famous 1979 treasure hunt book (printed before the 1982 reprint) … that caused a sensation at the time of publication, and then a minor scandal as it was alleged that the treasure was found using  insider information and metal detectors …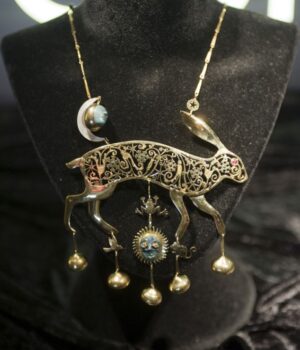 instead of solving the puzzle. The  treasure – a gold hare -was later  sold at auction by  Sotheby's for over £30,000 to an anonymous bidder. It was eventually displayed at the V&A in 2012.
For sale here – the last unopened copy-  of the 1981 calendar here and 3 copies of the 1979 1st edition ( not the 1982 reprint) can be found here : Masquerade by Kit Williams UK HB 1st edition
Condition : 3 x New, unread copies available – in the original unused card envelopes – envelopes have very minor storage bumps – see photos- calendars are near mint.