Description
Printing info  : Printed by TSR England  Osiris Visions LTD. 90 Westbourne Grove OA123. Hapshash & The Coloured Coat"
The poster has been signed in pencil in the lower right hand corner by Nigel Waymouth as a means of authentication.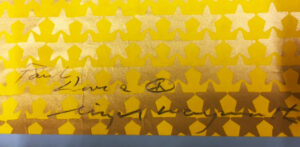 Silk screen poster, that has been in my possession since 1985.
Condition : It is not perfect. There are no rips of tears, no pin holes and the poster it not faded from display. However clearly it was stored rolled for a number of years and has wrinkles, which are most evident on the reverse. There is also an area of age spotting on the reverse. These all all good points for determining the age of the poster. Avoid mint condition Hapshash posters, they look new because they probably are. Price on Request.
.