Description
Martin Sharp's classic poster for Steve Abrams 1st Legalise Pot Rally….by 7th July 1968 the News of the World declared headline news , " This dangerous man MUST be Stopped!- He's found a legal way to make drugs "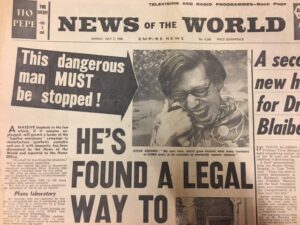 I'm aware of 2 variations of this poster. 1st with no printers info at the bottom- allegedly only printed for fly posting the event, they are gold in ink – not metallic. 2nd with the BO1  Cannabis by Martin Sharp Published by Big O Posters Ltd 219 Eversleigh Road address. This poster design led Peter Ledeboer to set up Big O posters in 1967.
The poster for sale is the foil version with the printer's address.
Condition : VG+ from the Felix Dennis archive. Minor handling creases.
Must be either collected or mailed flat.