Description
First US edition/first printing  of 3,500 copies of William Burroughs' Beat classic Naked Lunch in original dust jacket with unclipped $6.00 price on the inside dust jacket front flap. Also other first printing points :  no GP-24 zip code on spine or inside Dust jacket flap, no Roman Numeral. 4 University Place address on back of jacket.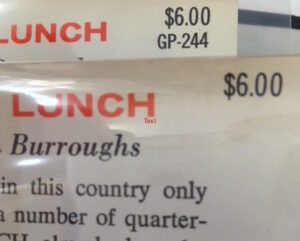 1st edition No "GP-244" Zip Code. Behind later printing with code added.
While the original 1959 Olympia Press edition was soureced from a manuscript edited by Burroughs , the US Grove Press edition uses an earlier draft manuscript from 1958  supplied by Allen Ginsberg.
Two copies in stock, both 1st editions and first printings – due to it's infamy this title  rapidly went through a lot of printing at the time of publication.  it Search Burroughs for more stock items.
To order: please click the enquiry button or email info@pleasuresofpasttimes.com and state your location and preferred payment method* I will respond within less than 24hours with a bespoke postage and packing quote (at near cost as possible).
*My preferred payment method is via online banking and I send a request based on your location. This is known as ACH in the USA (and is free to use – unlike a wire). This means I can offer P&P at cost. It's cheaper for you and cheaper for me 🙂
Alternatively, I can send a Paypal request. Please specify whether you wish to use your Debit or Credit card (no account necessary) – or you wish to use your Paypal account. Paypal payments are subject to their fees (added), unless you wish to pay via the Family & Friends option.