Description
First US edition/first printing of William Burroughs' Beat classic Naked Lunch in original dust jacket with $6.00 price on front flap and no GP-24 zip code on spine or inside Dust jacket flap. 64 University Place address on back of jacket
.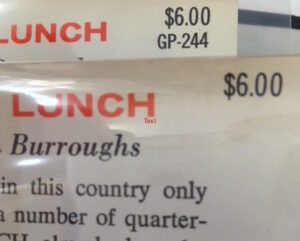 1st edition No "GP-244" Zip Code. Behind later printing with code added.
Unlike the 1959 Olympia Press edition. This US Grove Press edition uses a different manuscript from 1958 that was supplied by Allen Ginsberg.
Condition of book is Near Fine.
Condition of dust jacket is VG+/ Exc. Only a few minor chips and tears.
Rare in this state.