Description
#3 of 3 Complete copies in stock : IIC563 £375.00 Overall VG+ with few faults. Links to other stock copies below.
The Beatles Let it Be, 1970 complete UK box set (No"replacement" items!) Stock Ref HHB582 £500
The Beatles Let it Be, 1970 complete UK box set (No"replacement" items!) Stock Ref HHB412
Background : The final (released) Beatles LP came out as limited box set in the UK on 8th May 1970 and was deleted in December. It was then replaced with standard issue single LP cover. The boxed set consisted of an LP & 164 page paperback book in a flimsy card box. While the Book/Box set was also issued  in a Australia, New Zealand, Canada and South East Asia it was only  released in the US in a gatefold sleeve. While the foreign pressings still have value, the country of issue copies command the most interest. The package was less than robust and finding  a complete copy with all original items intact (no bogus 'replacements')  is difficult. The 'inner tray' is not only the most boring part of the package but also the rarest. This was often discarded and  later 'replaced" to make the package "complete" for resale. The other common issue is that the weight of the book tears through the flimsy card.
The package consists of a box –  in three sections – a glossy outer 'wrapper' with a two part tray to house the book. The LP slotted between the outer wrapper and the tray. Although the official catalogue number for the package was PXS1, it's not printed anywhere. However confusion that some copies were stickered,  comes from the existence of  EMI 'with compliments' promo stickers,  that had PXS1 "over stamped" in red. Shown below for illustrative purposes only and NOT included. The first pressing matrix info, scribed into the run-out groove, is either 2U or 3U. The full colour glossy book contained transcriptions of dialogue from the filming and numerous photos. The problem is that the glued spine – so-called perfect binding –  was anything but and the minute it was fully opened the pages came loose. Either that or over the decades the glue dried and …it fell apart.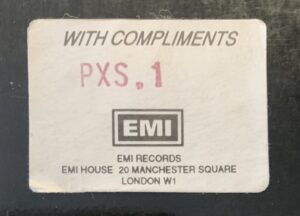 Also the box set did NOT come with a poster. EMI issued posters advertising Apple's latest releases to record shops. These were designed as giveaways  and weren't for sale or included inside the box sets. However many shops inserted them into the latest Apple stock – hence the confusion. You were equally as likely/or not, to get a poster tucked inside a copy of the White Album if you bought it during the summer of 1970.
Condition :
Outer box :  VG+  Overall a very good example without the usual bends or thumb creases around the opening, however there's is tear on the back : see photo. As with all copies, due to the high gloss finish, storage wear- mainly on reverse.
Outer tray : VG++ : 100% genuine black and grey card, no tears or major creases.
Inner tray: VG+ 100% genuine black and grey card. This copy shows minor creasing, but isn't torn through.
LP Cover :  VG+  Red Apple on back cover, minor handling but no major creases.
LP : EX  Original 2U/ 2U Matrix info scribed in the run out. Looks Near Mint – with very little evidence of having been played other than one spindle mark around central hole on both labels. Correct EMI inner bag included.
• Book :  VG++ No sign of being reglued or any loose pages. No handling creases on glossy cover, minor handling inside.
Shipping :  All LPs are shipped in separate sleeves and never inside the original LP cover ( to avoid splitting in transit). In this case the book is removed from the box to avoid any further damage.
To order: please click the enquiry button or email info@pleasuresofpasttimes.com and state your location and preferred payment method* I will respond within less than 24hours with a bespoke postage and packing quote (at near cost as possible).
*My preferred payment method is via online banking and I send a request based on your location. This is known as ACH in the USA (and is free to use – unlike a wire). This means I can offer P&P at cost. It's cheaper for you and cheaper for me 🙂
Alternatively, I can send a Paypal request. Please specify whether you wish to use your Debit or Credit card (no account necessary) – or you wish to use your Paypal account. Paypal payments are subject to their fees (added), unless you wish to pay via the Family & Friends option.