Description
One of the rarer Patti Smith poetry books -and  her second published. Typical small press chapbook of the period  and Bukowski… and pre Horses !
"This first edition is limited to 300 numbered and signed copies. Dedicated to Isaac Newton and Kim Novak". Ahhh theory of gravity and Hitchcock's Vertigo in case you were feeling a bit slow, I was ….
For sale #2 , #3 and 109 – of which #2 and #3  never  went to retail  and come from the personal inventory of Andreas Brown – the second owner of the publisher Gotham Book Mart. 14cm x 21 cm : 8 pages including covers.
Also in stock an uncommon Stimula Book Inc. bootleg edition. No much chance of mistaking this for the original – which consists of one long poem across three printed pages, whereas this adds three more poems. Also it is slightly larger, different paper stock etc …the "signature" is facsimile and numbered with a stamp. (see photos in gallery – with  badge next to them).
search ' Patti Smith ' for more stock items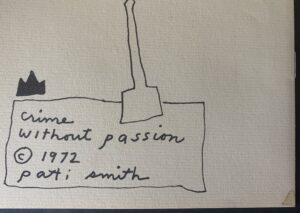 To order: please click the enquiry button or email info@pleasuresofpasttimes.com and state your location and preferred payment method* I will respond within less than 24hours with a bespoke postage and packing quote (at near cost as possible).
*My preferred payment method is via online banking and I send a request based on your location. This is known as ACH in the USA (and is free to use – unlike a wire). This means I can offer P&P at cost. It's cheaper for you and cheaper for me 🙂
Alternatively, I can send a Paypal request. Please specify whether you wish to use your Debit or Credit card (no account necessary) – or you wish to use your Paypal account. Paypal payments are subject to their fees (added), unless you wish to pay via the Family & Friends option.