Description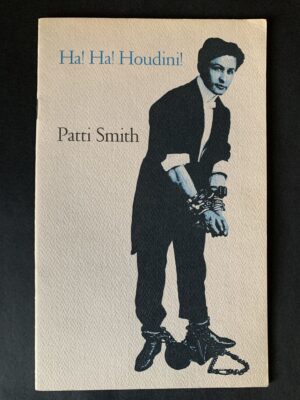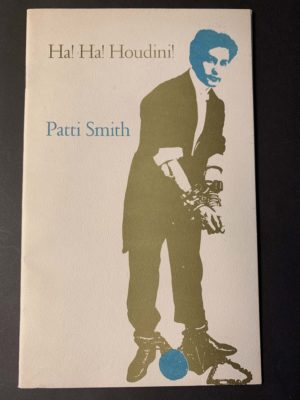 One of Patti Smith's early poetry books published by Gotham Book Mart in New York (where Smith held her first solo exhibition of drawings in 1973) & two versions in the UK by FKN Ace
The regular US  trade edition has beige softcover and  black and blue depiction of Houdini on the cover. The UK Ace edition came in limited edition of 500 copies with red boards with Houdini in dark blue and  a variation with a beige softcover and Houdini in blue and green.
The Gotham Edition was also issued as a limited signed edition of 100.  The last 26 copies  were  denoted  A-Z .  These  had a  punched and a padlock inserted through. (NOT currently in stock). However, there seem to be erroneous Ap ( artist proof) unnumbered copies outside this edition which were issued at the time.
Please enquiry about exactly which editions are in stock :
To order: please click the enquiry button or email info@pleasuresofpasttimes.com and state your location and preferred payment method* I will respond within less than 24hours with a bespoke postage and packing quote (at near cost as possible).
*My preferred payment method is via online banking and I send a request based on your location. This is known as ACH in the USA (and is free to use – unlike a wire). This means I can offer P&P at cost. It's cheaper for you and cheaper for me 🙂
Alternatively, I can send a Paypal request. Please specify whether you wish to use your Debit or Credit card (no account necessary) – or you wish to use your Paypal account. Paypal payments are subject to their fees (added), unless you wish to pay via the Family & Friends option.