Description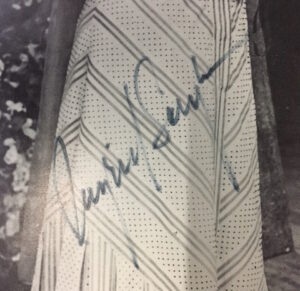 1971 UK Theatre Programme for a production of Bernard Shaw's play Captain Brassbound's Conversion at the Cambridge Theatre in London.
Ingrid Bergman has signed in black felt pen across the photo accompanying her biography  inside. The autograph was gained in person backstage  by the person I acquired this from.
Condition : The programme is complete, with only minor handling wear and faint rusting of the staples, No  clipping , no other writing, no tears or creases.
A letter of authentication with a money back guarantee with be sent with this item.
To order: please click the enquiry button or email info@pleasuresofpasttimes.com and state your location and preferred payment method* I will respond within less than 24hours with a bespoke postage and packing quote (at near cost as possible).
*My preferred payment method is via online banking and I send a request based on your location. This is known as ACH in the USA (and is free to use – unlike a wire). This means I can offer P&P at cost. It's cheaper for you and cheaper for me 🙂
Alternatively, I can send a Paypal request. Please specify whether you wish to use your Debit or Credit card (no account necessary) – or you wish to use your Paypal account. Paypal payments are subject to their fees (added), unless you wish to pay via the Family & Friends option.