Description
20cm x 11.5cm, folded  : 4 page Fan Club insert included some some copies of Low LP.
As seen, there are two versions, one printed by Delga that has a UK Fan Club form inside….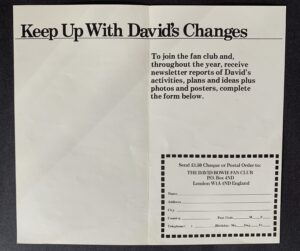 the other printed by Garrod & Lofthouse but has a US form inside as well as advertising Bowie's back catalogue.
Strangely the US/Garrod & Lofthouse version is the most commonly found in UK Lps, the Delga UK version being a lot rarer. As we used to joke in the shop, add one to your copy  of Low , then list it on eBay for £180…..