Description
A complete issue of the French film magazine Fantastique #20 October 1968 edited by Le Terrain Vague publisher Eric Losfeld, who  had reputation in the 1960s for publishing risque adult graphic novels (many of which can  be found on this website) -namely Barbarella (1964), Emmanuelle (1967) and The Adventures of Jodelle & Pravda by Guy Pellaert ( Diamond Dogs cover….) and Saga De Xam.  Unsurprisingly Losefeld published the book of Klein's film, based on a larger than life comic book anti-hero.   Ambitious as the film was, the book is a lot better than the film.despite fantastic costumes, sets  & a Serge Gainsbourg soundtrack (and acting role),  the poor lighting and bad production value let it down.
The rest of the magazine's contents is  fabulous : Goohan's The Prisoner, Planet of the Apes (La Planete des singes – the film was based on a French novel) and Polanski , Godzilla etc…all high trash.
Condition : VG+ Minor spotting on content page – see photo. Complete : no clippings , creases etc. Uncommon.
To order: please click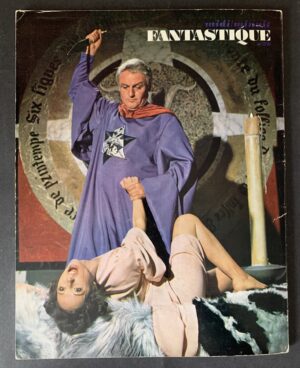 To order: please click the enquiry button or email info@pleasuresofpasttimes.com and state your location and preferred payment method* I will respond within less than 24hours with a bespoke postage and packing quote (at near cost as possible).
*My preferred payment method is via online banking and I send a request based on your location. This is known as ACH in the USA (and is free to use – unlike a wire). This means I can offer P&P at cost. It's cheaper for you and cheaper for me 🙂
Alternatively, I can send a Paypal request. Please specify whether you wish to use your Debit or Credit card (no account necessary) – or you wish to use your Paypal account. Paypal payments are subject to their fees (added), unless you wish to pay via the Family & Friends option.