Description
Very scarce 1976 pre-production sticker / decal used on scripts and film cans, designed by Ralph McQuarrie, who did the early visualisations and renderings.
According to McQuarrie it was drawn while they were working on early costumes designs, mainly with Han Solo in mind but also an early version of the Luke character when he Starkiller not Skywalker.
These were also handed out at the 1976 San Diego, when an incomplete cut of Star Wars was first publicly screened .
61/2″x  4 3/4″  (16.5cm x12cm) Correct Fasson crack'n'peel backing – reproductions (fakes)  don't have this. Also of note : on the originals the bottom edge is not straight – see photo and the corners are die-cut slightly longer than the sticker.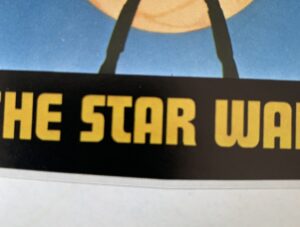 Prices are polarized : $15
Condition : New & Unused.