Description
A 480 page, single volume, trade edition was issued in 2017 by Domingo's brother as Altered States: The Library of Julio Santo Domingo.
This is the original two volume private edition, compiled and curated by Carl Williams (then head of Counter Culture at Maggs Bros Ltd, Bookshop London) as the LSD Library. Vanity publishing in the the extreme for a unique collection now housed between Harvard's library and The Rock 'n' Roll Hall of Fame in Cleveland. This copy was sent to the shop by Andres Santo Domingo. When I looked puzzled, he  laughed and assured me that no other book seller would have a copy for sale !
From Anthology Edition Website :
Julio Mario Santo Domingo (1957-2009) was a collector and visionary who filled his homes and warehouses with the world's greatest private collection related to the subjects of drugs, sex, magic, and rock and roll. A library of more than 50,000 items, it contained everything from rare manuscripts and photos to posters, bottles, letters, opium pipes, and pinball machines. Exploring the innumerable influences of mind-enhancing drugs on art, science, and politics over the centuries, Santo Domingo's collection contained work by diverse figures including Andy Warhol, Timothy Leary, Sigmund Freud, the Marquis de Sade, Charles Baudelaire, Allen Ginsberg, the Rolling Stones, Aleister Crowley, and many more. This extraordinary collection is vividly documented in Altered States: The Library of Julio Santo Domingo.At once comprehensive and fantastical, informative and hallucinatory, this beautifully-designed book highlights pieces from the collection to create a visually stunning and endlessly surprising celebration of the Santo Domingo library. Shedding light on an often misunderstood force in history, Altered States is an unprecedented insight into the effect of drugs on life, politics and popular culture
Condition : As New.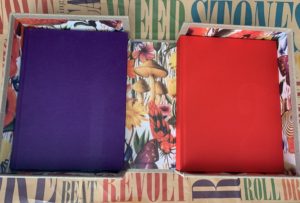 Unread : Clamshell case, with magnetic clasp : Fine, Volume #1 : very minor storage rubbing to boards (see photo: purple binding top left). Volume 2 : Fine. + Original (used) wrapping paper.
To order: please click the enquiry button or email info@pleasuresofpasttimes.com and state your location and preferred payment method* I will respond within less than 24hours with a bespoke postage and packing quote (at near cost as possible).
*My preferred payment method is via online banking and I send a request based on your location. This is known as ACH in the USA (and is free to use – unlike a wire). This means I can offer P&P at cost. It's cheaper for you and cheaper for me 🙂
Alternatively, I can send a Paypal request. Please specify whether you wish to use your Debit or Credit card (no account necessary) – or you wish to use your Paypal account. Paypal payments are subject to their fees (added), unless you wish to pay via the Family & Friends option.