Description
Despite the name 'Old England' they were anything but ! Designed to be totally interchangeable, you could replace the strap with another lurid colour any time you fancied or your mood changed….
Founded and designed by Richard Loftus…These were sold at the Beatles' Apple shop and there was even a special Apple watch made….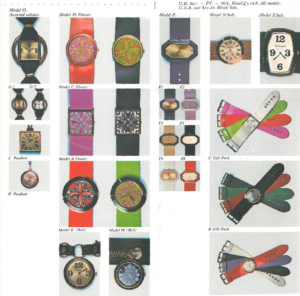 Condition : Strap has no signs of cracking. Very minor wear at edges. Watch : Clockwork, keeps fairly good time, but slows down and  needs to be checked against a digital clock occasionally.
To order: please click the enquiry button or email info@pleasuresofpasttimes.com and state your location and preferred payment method* I will respond within less than 24hours with a bespoke postage and packing quote (at near cost as possible).
*My preferred payment method is via online banking and I send a request based on your location. This is known as ACH in the USA (and is free to use – unlike a wire). This means I can offer P&P at cost. It's cheaper for you and cheaper for me 🙂
Alternatively, I can send a Paypal request. Please specify whether you wish to use your Debit or Credit card (no account necessary) – or you wish to use your Paypal account. Paypal payments are subject to their fees (added), unless you wish to pay via the Family & Friends option.