Description
Despite a reprint the same year as it was first published, this book is considered something of a rarity and has always been in demand. Not just by Mott fans but as a frank and candid account of what standing on the verge of international rock stardom was really like.  Even the later 1996 reprint was listing  online for more than £65-100 after it had gone out of print.Eventually Hunter's wife Trudi reclaimed the rights deluxe, signed hardback in a slipcase as issued.  Nevertheless the original printings have remained collector's items. Regarded as classic – one of the best early R'N'R biographies !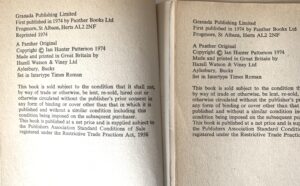 To order: please click the enquiry button or email info@pleasuresofpasttimes.com and state your location and preferred payment method* I will respond within less than 24hours with a bespoke postage and packing quote (at near cost as possible).
*My preferred payment method is via online banking and I send a request based on your location. This is known as ACH in the USA (and is free to use – unlike a wire). This means I can offer P&P at cost. It's cheaper for you and cheaper for me 🙂
Alternatively, I can send a Paypal request. Please specify whether you wish to use your Debit or Credit card (no account necessary) – or you wish to use your Paypal account. Paypal payments are subject to their fees (added), unless you wish to pay via the Family & Friends option.