Description
Brothers David and Stuart Wise, formerly of the the Notting Hill street gang the Motherfuckers,  were the core members of King Mob. They were 'excluded' from the Situationist International in 1967 after Guy Debord visited London expecting to find a crack squad of 'pro-situ streetfighters' but instead found Dave and Stuart cracking open the cans of lager sat in front of Match of the Day.
Regardless, King Mob were responsible for instigating several Artaudian street actions…often deliberately childish in nature and focus.  These ranged from establishing a much needed children's playground on Powis Square to their Christmas '68  action in Selfridges' toy department, when, dressed as Santa Claus, they distributed toys "free of charge" !
They also pioneered graffiti as street 'art' such as their classic, "Same thing day after day- tube – work – dinner – work – tube – armchair – TV – sleep – tube – work – how much more can you take? – one in ten go mad, one in five cracks up" on the tracks near Ladbroke Grove tube  station, which remained in situ until the late 1990s.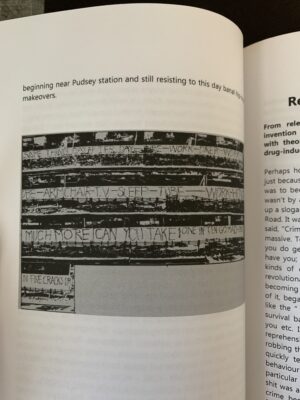 Although their  posters, handbills and magazines were limited in terms of distribution and output, their brutally harsh graphics and statements inspired and influenced everyone from Jamie Reid'  to Banksy.
This book, since publication, has been offered for sale online for absurd prices, the only copy on Amazon UK is £499.00….. Spanish Amazon €1025+ for  and a coffee stained copy on eBay for £100+….
Copies sold here are NEW