Description
Hunter S. Thompson's  2nd published book  – "A Savage Journey to the Heart of the American Dream". With illustrations by Ralph Steadman.
"A scorching epochal sensation." – Tom Wolfe
This title was first published as a two part serialization, credited to the narrator 'Raoul Duke',  in Rolling Stone Magazine # 95 & 96 in November 1971.  It was first published as a  hardback on July 7, 1972  by Random House in the USA and appeared as a paperback in 1973 printed by the Popular Library. In Britain it only appeared at the time of publication in Rolling Stone and as Paladin paperback.
• 1971 Rolling Stone Magazine # 95/96
While the US & UK editions of Rolling Stone  differed in terms of page count, layout and advertising, there's no discernable difference in terms of the presentation of Fear & Loathing other than the cover page. Fear & Loathing  opens with a double page spread by Steadman – this appears across Pages 24-25 in the UK edition, and 36 & 37 in the US.
While the UK edition is all newsprint the US version has a few white paper sheets, including the cover. The main problem is that RS had a lot pages, so  copies were never squarely folded, with page edges protruding that got torn and dog eared. On top of that, newsprint doesn't age well unless stored in a dry cool place-  so 50 years later  finding a clean, bright copy instead of a dry, flaking, salmon coloured tanned copy  is nearly impossible.
However the Rolling Stone issues are the first publication of the title and with the large reproductions of the Ralph Steadman illustrations they're extremely collectable.
• 1972 Random House,  Hardback US first edition book- US Only

While the hardback clearly states "First Edition" on the credit page, book sellers are keen observe the other 1st edition points :  "97532468" printed above "First Edition".  Also,  '$5.95' on the upper inside flap of the dust jacket. The book was printed in June and released 7th July 1972.
The main issues I've observed is the degree of fading of the title, printed in red, on the spine and slight discolouration of the top of the boards – see photos. Illustrations are pretty much the same throughout -apart  some are flipped horizontally- Pages 7 & 54. And a few are repeated or details are reused page 86.
• 1973 Popular Library Paperback – US
208 Pages + Adverts at the back. 1st printing not stated but later reprints state printing #….The paperback pretty much follows the Random House cover and layout with no significant variations. Original printing are hard to find without sunned spines and tanned pages.
• 1972 Paladin UK Paperback ( no HB issued)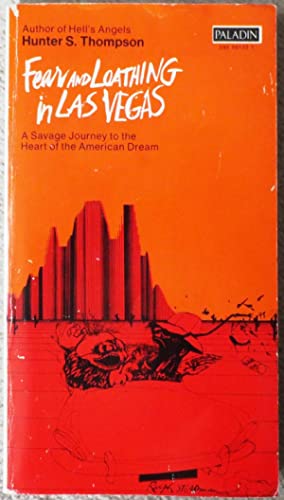 For the cover, unlike the US editions, the UK paperback retained the original double page spread from RS. Although the edition remained in print until about 1990,  finding a genuine 1st , without reprints listed,  is hard. Although not £860- hard…which is what an ABE seller has one listed for – in beaten up condition?!  We sold a signed copy- both Thompson & Steadman- for less ? !
For more on the background behind this book :Bandido : Biography of Oscar Zeta Acosta and the Chicano Experience (Hunter S. Thompson's "attorney")
Oscar Zeta Acosta -The Autobiography of a Brown Buffalo (Hunter S. Thompson's "attorney")
To order:  please click the enquiry button or email info@pleasuresofpasttimes.com and state your location and preferred payment method* I will respond within less than 24hours with a bespoke postage and packing quote (at near cost as possible).
*My preferred payment method is via Online banking and I send a request based on your location. This is known ACH in the USA (and is free to use- unlike a wire). This means I can offer P&P at cost. It's cheaper for you and cheaper for me 🙂
Alternatively, I can send a Paypal request. Please specify whether you wish to use your Debit or Credit card (no account necessary) – or you wish to use your Paypal account. Paypal payments are subject to their fees (added), unless you wish to pay via the Family & Friends option.