Description
First edition and first state of William Burroughs' Naked Lunch, with old 1500 Franc price on book and dust jacket- that has not been over-stamped, or reprinted  with the revised price of 18NF.
Contains Burroughs original text that differs from the UK and US editions which are derived from a different manuscript he supplied to Allen Ginsberg.
Signed by author on the title page, but undated and undedicated.
Also comes with publisher Maurice Girodias' card. Original owner's inscription from 1960 on fly leaf  (please see photo below). Whoever R, Stephen Schneider was, he appears to have been travelling around Europe : Paris where he bough the book, then notes in Greek that he was in Athens in April 1960.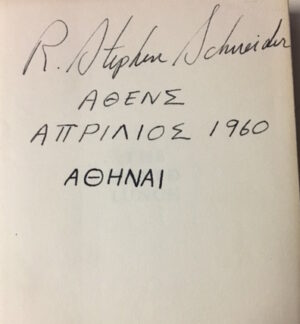 Condition of book is VG+. Creasing on spine and minor tears on back cover.
Condition of dust jacket is VG+. Slight wear on corners, else excellent.
Extremely scarce in this signed state.