Description
David Medalla (23 March 1942 – 28 December 2020) was a Filipino born multi talented artist working in the fields of kinetic sculpture, installation and performance art & more.
He was central to the evolution of "swinging London" into the counterculture. He co-curated the Signals art gallery (1964-1966) and was more than influential to the subsequent Indica Gallery (1966-1967).
In 1967 he form the Exploding Galaxy a dance/performance troupe that performed at many of the key London Psychedelic Clubs and venue including UFO, Middle Earth & the Arts Lab, as well as performing at the 14 Hour Technicolour Dream ( a massive IT Magazine benefit at Alley Palley.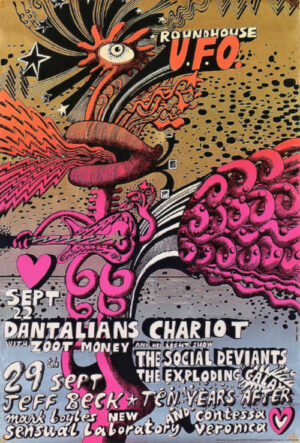 Because their performances were so ephemeral, there's not a lot available- beyond their name on some very, very expensive posters- until Jill Drower's excellent 2015 book !