Description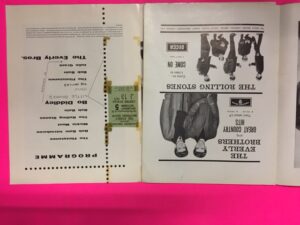 The Rolling Stones 1st appearance on a tour programme. The tour headliners  were the Everly  Brothers & Bo Diddley….. with the Rolling Stones ….before Little Richard was added to the tour.
The Stones contents consists of a half page advert for their first single Come On & a page biography.
The programme for sale is the one on the left – the other copy with Little Richard added to the front and back cover has sold. However inside whoever attended this concert has added Little Richard in pen to the line up inside the programme billing inside. I'm of the opinion that this addition makes this copy all the more interesting as an artefact. The original ticket is also included , original pasted inside the programme.