Description
• Jan Hudson's expose of  America's Motorcycle Wild Ones …came right of the heels of Hunter S. Thompson's Hell's Angels published the same year -1967.
• The Run is 3rd -1972- in the  "Mind-Blowing series"  of biker exploitation novels by Peter Cave – preceded by Chopper & Mama !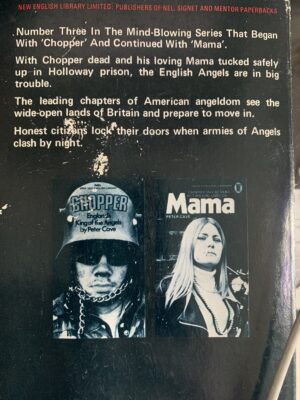 • The Bike From Hell – is novel about a haunted killer bike, Baal Stonehenge etc.. In series The Bikers, The Outlaws, The Last Trip & The Devil's Rider by Alex R.Stuart.
PLEASE NOTE : In order not to overcharge Postage & Packing cost, it is calculated after checkout and emailed as a separate invoice. You have the right to cancel your order at any point.
UK : Bank Transfer – preferred Paul Drummond Natwest Acc# 24696668 Sort 503009International Payments in USD & EUR: please email for current rates. Paypal Accepted. Card payments also processed by Paypal (you do not need an account).