Description
An early example of Marilyn's infamous Golden Dreams photograph. The same image became the centrefold in the first issue of Playboy in 1953, which helped cement (rather than detract) from the legend of Monroe, The Sex Symbol.
The photo was taken by Tom Kelley in 1949, when Monroe was a cheesecake model. Images from such sessions were regularly sold-on as generic nudes, often embellished with over layers (nighties or bikinis) that could be peeled off to relive the nude image underneath.
The now famous Golden Dreams image was first used in 1952 and sent out in salesmen's packs….offered as a generic images ( along with 3 other nudes of different models), pictures of ducks, cute kids with freckles and of course Jesus radiating blessings…such was the the U.S.A in the 1950s.
A complete pack can be seen here :
Pre-1955 and mainstream fame, the images obviously did not carry Marilyn's name only the title " Golden Dreams" and to the right "Made in U.S.A"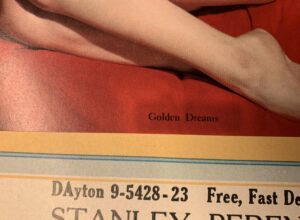 Condition : Excellent, unused. The only flaw is bump in the back board,  resulting in minor creasing to the bottom right corner. The tipped on images of Marilyn is virtually mint, showing no signs of use and no colour fading whatsoever. Needless to say the calendar section is complete. A rare pre-fame original in amazing condition!