Description
One of the rarer and more bizarre Yellow Submarine tie ins….(see below)
Aproox 53x38cm poster with 36.5x25cm Letraset sheet
The poster has been folded in half – as issued. It's in decent condition but has some mild patches of discolouration from being stored.
The Letrset sheet has survived remarkably well, with no flaking or peeling. No creases.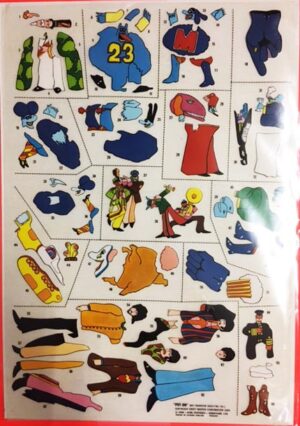 Tom Vinelott, who curates a Letraset website , got in touch doubting these were in fact  Letraset.  I sent him a detailed photo proving they were.
From Vinelott : This is brilliant! We've never heard of this before, & it doesn't fit into any existing framework, so it's a genuine oddity. I have a page on the Yellow Submarine transfers commissioned for the making of the film at http://www.action-transfers.com/html/a_articles/specials2.shtml — but of course yours is a promotional sheet rather than a 'Special'.
And Letraset didn't use this 'rub down your transfers in the space provided' idea again for years after this.
Letraset's serial number system is usually very helpful, but as you can imagine, "YS-1" is not part of any series! Their normal serials for promotions start, imaginatively, with "PR". In 1969 they were already on PR29, so I'm not sure why this promotional sheet didn't fit into that series.
The Yellow Submarine Special Sheets, S10064 (& I assume the initial "100" was in order to look busy), were printed on Letraset's Svecia silkscreen press, whereas most of the promotional items would have been printed on their gravure press in Ashford, which was available from the Autumn of 1968 (too late for the film).
So at a guess, it looks to me like your YS-1 sheet may also have been printed on the Svecia, & that's why it didn't share the gravure press serials. 
It's fantastic to find a completely unsuspected item such as this. It does still happen, but quite rarely — 
     .