Description
On 11th August 1967 USA photographer Richard Avedon: photographed individual portraits of each member of The Beatles at Thompson House studios, 200 Gray's Inn Road, London. The black and white images were the subject to heavy treatment to transform them into vividly psychedelic images.
They were first published as a fold out section in the US magazine Look in January 1968. There was also an offer whereby you could order a set of 4 and receive a fifth poster – a black and white banner, depicting all 4 Beatles. Later they retailed in record stores (see display box offered for sale here)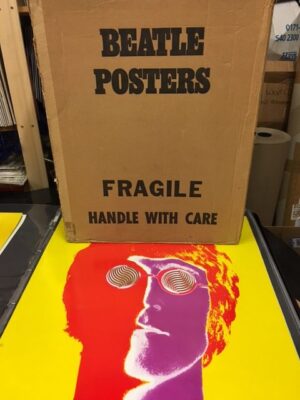 In the UK they offered for sale via an order form inserted into issue #56 of the Beatles Monthly Book fan magazine and a full page advert in the Daily Express Newspaper (27th February). They were also sold at W.H.Smith and John Menzies newsagents. Also via  Stern Magazine in Germany and in France and the Netherlands.
From my experience, I will only handle the UK, USA and German sets. I bought set of Dutch copies and the paper didn't match the UK, despite them being printed by the same printed ( in the UK) Waterlow & Sons. I returned them and the seller was furious, claiming he'd been selling them of years…. . I also acquired a French set at auction and when I collected them they were on thick, shiny modern stock, I refused them on the spot. Cheap sets sold online are probably reproductions.
The US version is the largest and the most intense colours (22.5″ x 31″ = 57cm x 79cm). The UK & Dutch sets were printed by Waterlow & Sons : Beatle posters  19″x  27″ (68cm x 47.5cm)  & the banner = 44″x 14″
The UK banner is scarce.  Although it was sent with complete sets, it hasn't survived . Even when I've bought sets in the original W.H Smith tube – the banner was missing and had to be sourced separately.
Currently in stock :
•  UK Set of 5 : stock ref  IIC339 : Since I can only post one photo for each variation, detail photos have been added to the gallery, which can be either zoomed into using the magnifier , or double click for full screen. Individual Beatles : all undisplayed, with minor handling from being rolled – No fading, no tears, no pin holes. The banner has 4 pin holes  and minor rubbing.
• UK Beatles Monthly containing poster offer insert SOLD
• UK Daily Express Newspaper full page advert : SOLD
• USA : Look Magazine January 1968 : featuring article & order from
• USA : Look Magazine set of 5 : Not Listed yet ! can't locate them since the move…..
• USA : Original Retail Box + 1 x Complete set ( ++ extras) & Outer shipping box  : separate listing  Click here : 1968 Beatles USA Richard Avedon Psychedelic Posters display box
• German set of 5 : s:  Minor Handling. Not displayed : therefore no fading , no pin holes, no creases.The Beatles Richard Avedon psychedelic posters – German Stern Magazine set of 5